As an Amazon Associate, we earn from qualifying purchases. We also earn commissions from other affiliate programs through our links at no extra cost to you.
You have probably heard a lot about HIIT exercise in recent years as a quick way to lose weight and tone muscles. Everyone knows walking on flat terrain isn't as effective as running up a hill if you want to burn lots of calories. That's where the Proform Cardio HIIT Trainer Pro comes in, it's just the you can use it to do the same thing at home.
The Proform Cardio HIIT Trainer Pro is the more advanced model in the HIIT trainer series by Proform and the main difference is in the number of advanced features. These machines are a combination of elliptical machines and step climbing machines and give you the ability to workout like you're walking really fast up a hill. If you're training for crossfit, there's probably no better piece of gym equipment to help.
We'll get into detail with our Proform Cardio HIIT cross trainer review, including all the advantages and disadvantages that come with it, but if you want to see other similar types of machines check out the best incline trainers of the year and also consider the cheaper and less advanced Proform HIIT Trainer.
Our Rating
Features

Durability

Challenge factor

Performance tracking

Value
Best for:
Cross training and fitness fanatics
You can buy the Proform Cardio HIIT Trainer Pro either on Amazon or on the Proform website.
What is HIIT?
HIIT or high intensity interval training is very effective for burning calories and you don't have to spend hours in the gym to do it. It requires a combination of a quick and short burst of very intense exercise to get your heart rate up to its maximum, followed by a longer period of still active but low intensity exercise. This cycle repeats a few times and you're done.
What happens is that the short and intense period of workout where you push yourself to put in maximum effort makes your body use up oxygen fast but the high intensity of your workout doesn't allow you to take in enough during that time. When you switch to low activity is when you can take in more oxygen, and it happens at a much faster rate than normal, which is what burns more calories.
High levels of oxygen burn fat faster, so HIIT cycle is more effective than doing steady moderate workouts for a long time.
Not everyone should do HIIT. It is meant for those who are relatively fit. Out of shape people should start with moderate exercise before moving on to this. For those that have never tried anything similar to the Proform HIIT trainers, then start at the lowest resistance level for only a few minutes for the first few days and don't increase levels until you get used to the previous one.
What is the HIIT Trainer Pro?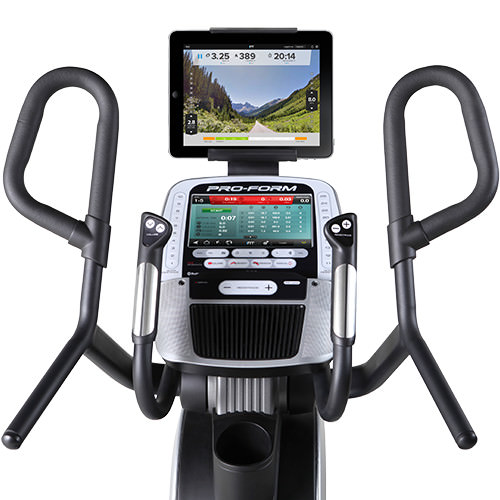 The HIIT Trainer Pro is a top-of-the-range elliptical machine which focuses in on short, high-intensity workouts to help even those who have limited time and a busy schedule to keep their entire bodies in shape. This HIIT cardio elliptical is perfect for home gym enthusiasts and helps to burn the maximum amount of calories in a minimum amount of time.
There are many great features which sets the Trainer Pro apart from other elliptical machines. Like many ellipticals, it is designed to be easy on the joints. Unlike many of them, it has a 10-inch vertical and 5-inch horizontal path. It also has moving arms to exercise your upper body at the same time. Think quickly walking up a hill while boxing.
This machine comes packed with some great electronic features to make exercise an incredibly user-friendly experience.
Features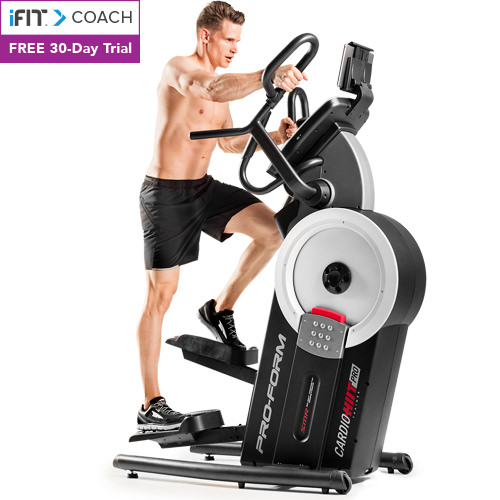 This HIIT cardio cross trainer comes with a wide range of features that are designed to be user-friendly and to provide the user with the best workout experience possible. These features include:
A 10-inch HD touchscreen that enables exercisers to surf the web or watch TV while working out and also gives important information on distance, time, speed, heart rate, and other important fitness metrics.

34 professionally designed workout apps that are ready to go and do not need to be downloaded. This is part of an expanding workout library which has been specifically designed for this machine and can all be accessed via the touch screen.

The iFit CoachReady features, which allows users to virtually jog (via Global Google Map Routes) all over the world, from the Swiss Alps to the streets of Paris, are also accessed on the touchscreen. This technology is built-in and there is no need to add a module. A subscription is required.

Nutritional instruction, which is also included for those wanting to improve their diet while they get into shape.

Above the screen is a tablet holder if you want entertainment on your iPad instead of the in-built screen. This way you can keep your workout programs and stats on at the same time that your tablet provides you with entertainment.

There's an in-built sound system with dual speakers for your iPod to be plugged in.

The upper body portion of this machine that allows users to have the feeling of stepping while boxing; this promotes exercises that simultaneously work out the calves, hamstrings, and quadriceps as well as the triceps and biceps. The moving arms allow you to grip them in different positions so you can target certain arm muscles more.

26 different levels of resistance that give maximum choice for those who want to start out slowly with their workouts.

The Silent Magnetic Resistance features that make for a smooth transition between resistance levels.




An EKG handlebar grip Pulse Heart Rate monitor to track cardiac activity while exercising. If you prefer a chest strap, you get a wireless one included as well.

Heavy-duty steel construction that takes up a minimum amount of space. The footprint of the machine is quite small compared to regular ellipticals or treadmills, with a length of 66.7 inches, a width of 29.25 inches and a height of 52 inches.

The 30-inch flywheel creates a smooth elliptical motion during a workout.

A cup holder and 2-speed fan for maximum comfort and convenience.

Large, padded pedals to keep the joints even more cushioned during the exercise session.

Transport wheels mounted on the front allow you to move the machine out of the way when you're done.

Anyone up to 350 lbs can use it.

The HIIT Trainer Pro comes with a Lifetime Frame warranty along with a 5-year warranty on parts and a 2-year labor warranty.
Pros
There are a number of advantages to this machine that customers appear to really appreciate. One of the most frequently mentioned advantages is the fact that it provides an intense, total-body workout in a short period of time without being tough on the joints. A lot of customers also like the fact that it is solidly constructed, quiet, and takes up a minimum amount of space, which makes it ideal for apartment-dwellers or those living in smaller homes.
Needless to say, the electronic features of this machine rate extremely high on many customers' lists. After all, long term motivation is not easy without a variety of workout goals and some form of entertainment while working out. With this machine, you have the ability to surf the web, talk to friends via the Bluetooth feature, and virtually jog through locations like the streets of Paris or the Chilean coast with the iFit feature. The 34 different workout apps are designed by fitness experts, and this variety of choices adds interest and novelty to a workout program.
Cons
Any product, no matter how good, is not perfect. There are some disadvantages to this machine that customers should be aware of before they make a purchase. While the reviews on this product have been largely positive, a few customers had some minor complaints about minor problems with the heart monitor and its ability to truly track the heart rate. Others had problems with the assembly of the machine, which weighs around 200 pounds and can take a while to put together.
Potential customers should also be aware of the fact that the fan makes noise (more noise than the machine itself, in fact)and also that the elliptical allows for only a fixed stride rather than allowing for some variation. Some users might find this difficult and prefer a machine which allows for a more natural stride according to their height.
Who This is Best For
It is also important, before making a purchase, to have an idea of what kind of customer the Proform Cardio HIIT Trainer Pro machine will best suit.
The most important thing to keep in mind is that the high intensity nature of this machine, while great for some customers, is not right or even safe for everyone. For people wanting a low-intensity, rehabilitative workout, this might not be the right choice. People with a history of conditions like high blood pressure should consult a medical professional before purchase.
However, for those who want a good, total-body workout that will burn calories and build muscle in a short amount of time, this is an excellent machine to consider. And although it is a little pricier than some ellipticals in this category, most customers report that they believe it is good value for the money, especially as compared to incline trainers.
To sum up, the HIIT Trainer Pro is a joint-friendly, electronically loaded elliptical whose high-intensity interval training allows for a maximum workout in the minimum amount of time. Its electronic features mean that customers can be entertained while they are on their machine. While this is not the best choice for those who are wanting a less intense training session, for those who like the high-intensity interval training system, it is an excellent option to consider.
Proform Cardio HIIT Trainer Pro Demo Video