As an Amazon Associate, we earn from qualifying purchases. We also earn commissions from other affiliate programs through our links at no extra cost to you.
Where to Buy Large Mirrors for a Home Gym
Are you looking for home gym mirrors so that you can install one on a wall in your garage or fitness room? While club gyms usually have a whole wall covered in large mirror panels to allow for several people to exercise in front of, that is a pricey and impractical solution for just one person working out at home. However it is good to have full length gym wall mirrors wherever you workout so that you know if your form is right when doing all kinds of exercises.
It does you no good if you continue to exercise with bad posture or the wrong movements because not only is that harmful in the long run, but you may not be getting the most effective results, whether it's for weight loss or for building or toning muscle. Large wall mirrors for the gym can also help you keep the motivation to continue for just a little longer and make it a lifelong habit just because most people respond positively to visual affirmation.
You may have already looked and found that many gym and dance studio mirrors for home gyms are quite expensive. That may be because they're actually commercial ones but in smaller sizes. In recent times a few brands have started making mirrors that are adequate for home use and don't cost quite as much. They're still not cheap but they are designed specifically as wall mirrors for this use. We'll give you a few options of those as well as alternatives that are much cheaper and made for generic use but will do for use as wall mirror panels for a home gym.
But first, you should know what exactly you should be looking for when shopping for a good mirror. you may not need a gigantic one if it's just for you to use when exercising alone.
Types of Gym Mirrors
Professional Quality Glass Mirrors: Since gym mirrors are larger than regular vanity mirrors, they are easy to drop during handling and installing. They are thicker and heavier than regular mirrors though, and once up on your wall will likely serve you well for many years unless there's an accident that breaks it. However, the quality and installation service adds up to be really expensive.
Short of buying those professional grade mirrors from a local glass company, the next best option is a mirror that comes from a wholesale dealer or one of the gym mirrors given below that are made of quality glass but come with mounting hardware for you to install yourself. They are still pretty thick at 1/4″ and come with the safety backing that professional grade mirrors have. This backing is an adhesive applied to the back of the mirror that prevents the mirror from shattering.

Moderately Priced Mirrors: Some professional grade mirrors that are 1/4″ thick don't come with safety backing. As long as you're careful while mounting and make sure to not cause it to break, this is a perfectly fine choice to make in order to save some dollars. These are easier to find at a Lowe's or Home Depot and we have one option in this price bracket in our list below.
You can also choose acrylic mirror sheets instead of real glass if you want. While not as high quality as real glass, they're better than cheap door hanging mirrors and less fragile as very thin glass mirrors. You'll have to buy more than one of these sheets in order to get the right total size but the overall cost is still less than a single 1/4″ glass mirror of a good size. We give you one option for this as well.

Budget Mirrors: There are plenty of inexpensive mirrors to go around and they're easy to find in any Target or Walmart. However, not all should be used for a home gym. One solution is to buy several inexpensive door hanging mirrors and place them side by side on the wall. However, most have frames which would impede an uninterrupted view of yourself. If you do find frameless door mirrors make sure that you don't select the cheapest ones that cost $10 each. These are not made of glass and can warp after hanging up, causing a fun house kind of reflection of you. Try to find mirrors made of actual glass. These may be really thin (1/8 inch) but at least they are made of glass and have a high quality of reflection without distortion. Be careful with them, however, as they can crack very easily.
How Big Should Your Home Gym Mirror Be?
You should know that you don't really need all that large a mirror or mirror panel surface to workout effectively. The width should cover at least your full arm span when they're extended fully to the sides. It should be tall enough to cover you from your feet to your hands if they're extended right over your head. This doesn't mean that the mirror should start right from the floor because you won't be exercising touching the mirror but a good enough distance from it. This means that it's fine to place the mirror about 18″ off the floor and still be able to see your feet. From there the total height would depend on your height, but a 60″ tall mirror would actually give you 78″ coverage, which is good enough for people of average height. If you're tall you'll need a mirror that's closer to 72″ in height.
Some gym mirrors will be as low as 30″ wide so you'll need at least two of these hung side by side. You may find that a single 48″ wide mirror is enough. If you're going to use the mirror for side to side movements like in Zumba, then aim for more mirrors.
Now if you need dance studio mirrors for home use you will probably need to install them closer to the floor because dancers often get close up to dance or to stretch with a bar right in front of the mirror. In this case, the height of the mirror will have to be measured from floor to fingertips when your hand is fully extended above your head. You will also need more width to cover more movements across the room. Full mirror walls are best here but they don't have to reach the ceiling.
Professional Grade Mirrors
These are mirrors specifically made for home gyms and you'll only need one. They're easy to install on your own and will last for years.
Fab Glass and Mirror Activity Mirror Kit for Gym & Dance
This Fab Glass and Mirror Activity Mirror Kit is available in 5 different sizes and a good size to choose is the 48″ x 60″ one installed vertically.
This mirror is 1/4 inch thick with flat polished edges and safety backing adhesive to minimize the chance of the glass shattering. If the glass does break the safety backing will keep the broken pieces in place to minimize the risk of someone getting hurt.
The kit also includes all necessary hardware for mounting, including a J-bar that's 60″ long, 4 mirror clips, screws for the J-bar and mirror adhesive. If you install it vertically, you can cut the J-bar to size first. You will need someone to help you install it and the kit doesn't come with instructions but just scroll down this page for a video to explain each step.
This company packages their mirrors very well and they are high quality and can even be used in commercial gyms.
TroySys Rectangle Mirasafe Gym Mirror Kit
The TroySys Mirasafe Gym Mirror Kit has almost the same specifications as the one above – 1/4″ thickness, safety backing and flat polished edges. It is available in one size – 36″ X 60″, but you get a discount if you buy multiple of it.
The mirror layer is low iron, which means that you get greater clarity with no tint or distortion.
The kit comes with DIY installation hardware consisting of J-bars, mounting screws, mirror clips and glass glue.
Moderately Priced Mirrors
Marketing Holders Acrylic Mirror Sheet
If you can't afford glass mirrors, you can choose an acrylic one as long as it is high quality. One such product are Marketing Holders Acrylic Mirror Sheets. You can get various sizes but you'll need several sheets placed next to each other and one above the other to get a good sized mirror.
These sturdy mirror sheets are 1/8″ thick, have rounded edges and are light enough to be portable. It is very clear and almost as good as a glass mirror when it comes to distortion. The real advantage here is that it will not shatter. It does not come with mounting but you can easily get mounting hardware from your local hardware store, or stick it on a wall using adhesive foam squares. It has Mylar backing that will stick pretty well to Velcro strips too.
Gardner Glass Products Silver Beveled Frameless Wall Mirror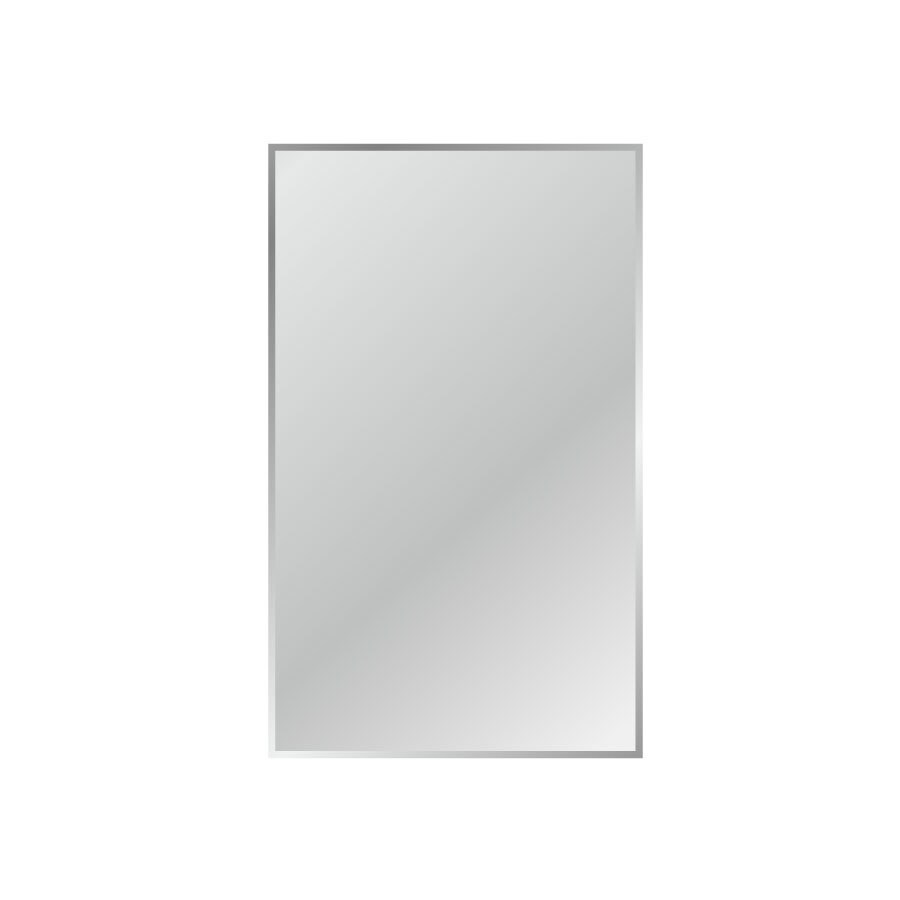 Multipurpose glass wall mirrors from your Home Depot or Lowe's are the best bet for moderately priced products. However, not all are good quality. If you don't have a store close enough, we can recommend this Gardner Glass Products Silver Beveled Frameless Wall Mirror available online for home delivery. We can recommend the 60″ x 36″ size, but you can look around for other sizes too.
It is also 1/4″ in thickness and has a beautiful beveled edge that doesn't require a frame. What is missing from this mirror the safety backing, so there is a chance that it will shatter if cracked. It should therefore not be used in any room that children have access to.
This mirror doesn't come with mounting hardware but you can easily get your own clips and screws, or j-channel and clips from just about anywhere. You can also glue it to the wall with the proper adhesive. This mirror can be hung vertically or horizontally
How to Install a Gym Mirror