As an Amazon Associate, we earn from qualifying purchases. We also earn commissions from other affiliate programs through our links at no extra cost to you.
A step machine simulates the motion of climbing stairs, so it is an effective piece of exercise equipment if you want to target the calves, thighs and glutes for weight loss and cardio fitness. The advantage it has over an elliptical machine is that it is more compact and more affordable, making it a great addition to your home gym. The best stepper machine for home use doesn't have to cost you much more than $100, unless it is a programmable one, and with its small footprint, will easily find a place in a corner even when not in use. The step height or resistance provided can usually be adjusted, so you can increase it as you get fitter.
If you're deciding between an elliptical and a stair stepper, other than the cost and space required, there are a few things that you should know first. Because a stepper does not have moving arms, it won't give you an upper body workout and you'll therefore burn less calories than with an elliptical. However, as with any type of climbing, a stepper provides you with a better cardiovascular workout. If you have knee problems, an elliptical is low impact, while a stepper offers slightly more of a strain on the knees. However, if you're looking to tone your butt more, a stepper is better. Another machine to consider for low impact exercise is a vertical climber. It provides an even more intense workout and simulated ladder or rock climbing. The steps you take can be made much larger and you can go as fast as you like. It also gives your arms a good workout. If you want something that's portable or can be stored in a closet or taken to work, then get a mini stepper instead. It doesn't come with handrails but some models come with resistance bands for a simultaneous arm workout.
Once you've decided on which machine to get, we'll help you find the best stair climber machine below, or you can check out our reviews for various types of elliptical trainers. But you may want to check out our elliptical buyer's guide first so see which kind works best for you.
The step machines we're talking about here have stationary handlebars for you to lightly hold to keep your balance. You also have portable steppers, also called portable ellipticals, that come with bands that you pull for arm resistance. While not as effective for a lower body workout, they are extremely portable and can be stored away in a closet when not in use. Mini steppers are also available and they don't come with handles or resistance bands, so you place it in front of a support that you can hold on to while exercising. We'll review those later.
If you want to narrow your choice down for a stair stepper with arms, read our stair stepper reviews below.
Compare Best Stair Stepper Machines
Sunny Health & Fitness Twist Stepper Step Machine with Handlebar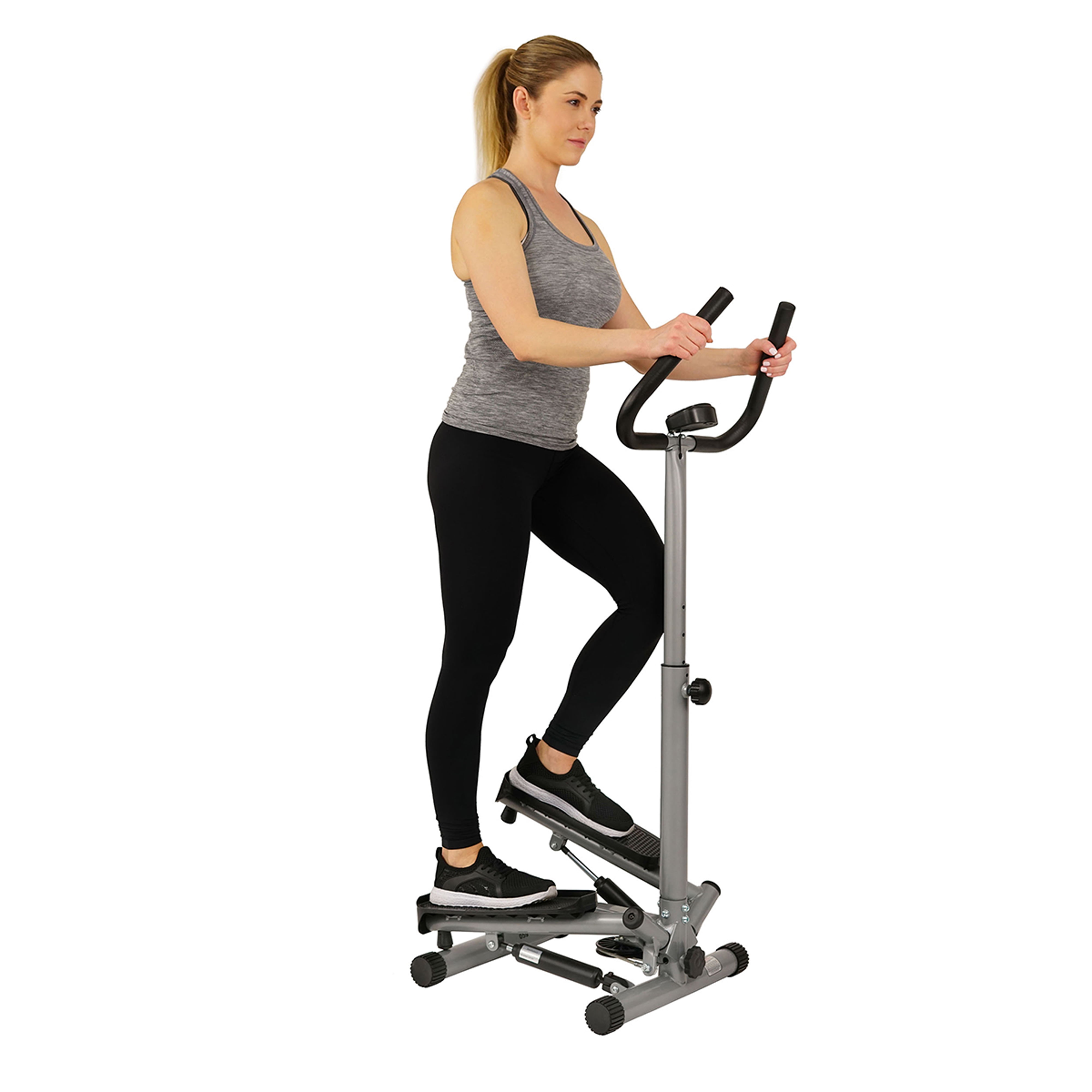 If you're looking for top value then this is the best home stair stepper out there. The Sunny Twister Stepper has a multi-function LCD computer display that shows you the calories, time and step count with the option to scan through each. The other reason for you to own this product is that it has an adjustable stepping height of three levels controlled by a knob set on the handlebar pole. The handlebars are there to enhance your balance.
Apart from enabling you to step up and down on the heavy duty steel constructed equipment, it also allows you to twist slightly side to side on its pedals. The twist action that you get tones both your leg and buttock muscles while reducing joint pressure. This unit weighs 28 pounds, has a weight capacity of 250 pounds, and its assembled dimensions are 19 by 17 by 48 inches (L*W*H). It is easy to assemble and can be done in about 15 minutes.
Some users have rated this item lowly because its handle is a bit flimsy and it may start to squeak a bit after a while.
Sunny Health & Fitness Twist Stepper Step Machine with Handlebar
Stamina SpaceMate Folding Stepper
The Stamina SpaceMate is quite a popular stepper because it can be folded for storage and can even slide under a bed or into a closet. Great for small apartments.
It has two easy to adjust resistance hydraulic cylinders that enable a smooth stepping motion. By just turning a knob near each foot plate, the step height can be raised or lowered. It also has an electric monitor that is powered by a battery. The monitor can assist you in tracking the number of steps you'll take each minute ad well as number of steps you'll take throughout the workout. It also displays calories burned and the time taken. Each of these can be displayed in turn using a scan mode.
It weighs approximately 45 pounds, has a weight capacity of 250 pounds, and the manufacturer ensures that you have a 1 year warranty for the frame, and a 90 days warranty for the equipment's parts.
This equipment comprises of a heavy-duty steel frame construct whose dimensions are 30.25 by 16.25 by 54.5 inches (L*W*H) when assembled. This product also ensures your safety because of its skid resistant rubber floor protectors that prevent any skidding. It also offers a comfortable grip on its foam-covered handlebars. The pedals are wide and slip-resistant.
This product requires some assembling and the foam covers for the handlebars are particularly tricky to get on. Also, a few customers say that the pedals do not move completely in time to each other, which may be due to resistance level not being set properly. Otherwise, many customers rate it five stars.
Stamina SpaceMate Folding Stepper
Wagan EL2273 Mini Stepper Master
If you're looking for a simple stair stepper that is inexpensive, look no further. The Wagan Mini Stepper Master is a surprisingly good product despite its cost and size. To begin with, you do not need a large floor space to have this equipment in your home. It occupies less than 1*1.5 feet. Moreover, it is quite easy to assemble and its use guarantees you a decent workout.
The equipment has a console display that shows you the number of calories burned, the step count, and the overall workout time. The weight of this piece is 27.2 pounds and its dimensions after assembly are 18 by 17 by 9 inches. Once you purchase this product, you are guaranteed a 1-year warranty.
Furthermore, the mini stepper offers you features that are comparable to larger alternatives. It has an adjustable resistance and is non-skid. The equipment also comes with an assembly manual. However, it becomes quite squeaky after a while and is best used for short intervals at a time rather than for long intense workouts. It does come with some hydraulic fluid to use for greasing. Although its stated capacity is 225 lbs, you may want to look elsewhere if you're more than 180 or so.
Wagan EL2273 Mini Stepper Master
Sunny Folding Climbing Stepper
Here is another Sunny brand stepper but this one folds for storage. Based on customer stair climber reviews, it is also the best exercise stepper that's not programmable.
The two adjustable resistance piston cylinders offer 12 different settings and your step height can be made quite large, making it come close to being a vertical climber if so desired. But this comes at a cost. The pistons can get heated up pretty fast, after which resistance decreases. So you are restricted to workout sessions no longer than 15 minutes if you plan to use higher resistance settings.
The digital monitor displays different factors like time, session count, calories, and total count. But on the downside, it is rather fragile and tends to die out sooner rather than later. With a durable steel and plastic construction, this climber can take a maximum stated load of 220 lbs. The device has a foldable design, one which you can fold flat and stow away under your bed if you want.
The struts do make the occasional creaking noise, but it is not a major issue as such. The setup can be easily assembled using just a handful of bolts and screws, but setting up the resistance pistons may take up some time. Stability is great, with no major wobbles or shakes during usage.
Sunny Folding Climbing Stepper
Stamina Avari Programmable Stepper
This tool definitely falls in the category of high end stair steppers. Want to know how hard you are working? All you have to do is grab the handrails of this machine. They have pulse sensors that monitor your heart rate. More so, it comes with 20 different programs to help you have a fitness plan based on your weight, heart rate, etc. Out of the 20 programs, four can be customized to your specific training wants and needs. This is a motorized stair stepper, where the tension control is adjusted by the touch of a button or by your selected program to offer you a smooth transition between resistance levels.
The handrails are padded to offer you a comfortable grip. It is also easy to move because it is equipped with transport wheels. With an InTouch console display that offers you stats like BMI, heart rate and target heart rate, body fat percentage, wattage, and more, you can use this machine to tone your lower body and lose weight. It is also efficient for challenging cardio workouts and is a tool that many experts will recommend for your home use.
This product requires some assembly but it is easy enough. Its shipping weight is 154 pounds, has a weight capacity of 300 pounds, and its dimensions are 42 by 40 by 59 inches. T
The Avari Stepper has reported problems with the computer display on the console, which some users also found to be too complex. This notwithstanding, it is a machine that will enable you reach your fitness goals.
Stamina Avari Programmable Stepper
Bowflex Max Trainer M7
If you're looking for more than a standard fitness stepper machine and want one to help you train for competition or just want the best stair climber workout and are willing to pay a good amount for it, the Bowflex Maxtrainer M7 is a top of the line product. It is actually an incline trainer that is really good for interval training, but its stepping motion also qualifies it to be a high end stepper. In addition to several preset programs and 20 levels of resistance, it offers adaptive resistance so you can ease into higher resistance levels as your fitness grows. With its own workout app and bluetooth capability, you can track your progress and create a fitness plan too.
Read our full review of the Bowflex Maxtrainer M7 here or get it from Amazon now.