As an Amazon Associate, we earn from qualifying purchases. We also earn commissions from other affiliate programs through our links at no extra cost to you.
When running on a road, you place a lot of stress on your hip, knee and ankle joints as the impact travels up your body. That's why exercising or training on a treadmill with shock absorption can greatly reduce recurring stress that results from impact. The best cushioned treadmill for home will have varying degrees of cushioning throughout the running surface area, with the front of the deck having the maximum amount to absorb shock as your foot lands. The cushioning decreases towards the back so that you have a firm deck at the back to help you push off.
If you're training for a road race, you don't want to get too used to cushioning all the time, so you should look for a model that lets you disengage it for a more realistic training experience. You should also look for a model with variable incline(about 12% maximum) and maybe even some decline(3% is the norm). These are especially good treadmills for interval training.
While there are many affordable options for walking treadmills, you do need ones with decks that are broad and long enough to accommodate long strides with natural diverging movements when running. Also, any treadmill budget under $300 or under $500 won't get you decent cushioning, although a few come with a little something so as not to have a completely hard deck.
Programmable workouts are pretty common on treadmills with a cushioned deck but some offer an astonishing array of options. Top end treadmills now come with iFit compatibility to alleviate any boredom you might have with your workouts. With a subscription, you can download terrain from various locations around the world through Google Maps!
Many of the best shock absorption treadmill options come with transport wheels and can also be folded up for storage or to just get it out of the way. The following treadmill cushioning reviews cover a wide range of budgets and are the best rated.


Best Cushioned Treadmill for Walking and Jogging
ADVENOR Treadmill
The ADVENOR Treadmill is an affordable and compact treadmill that is easy to use and store as it can be folded up using the hydraulic arm and wheeled to a storage space. It is the best budget treadmill with cushioning for home use. It comes with all the features you need and more, so you can get fit without breaking the bank.
Get a smoother run and avoid injuries. This treadmill provides a more forgiving run surface with 8 pcs of shock cushions located in different areas under the deck. The impact is effectively dissipated and the knees are protected from injury.
It has a large 5-inch backlit display that allows you to easily see your real-time fitness data: program selected, time, speed, pulse, distance, calories, body fat, and more. Its heavy 3.0 HP drive system with self-cooling technology is quiet and smooth and allows you to listen to your favorite music or just watch TV as you exercise! You can workout steadily on the 47.3″ x 17″ belt at speeds from 0.6 to 8.7 miles/hr, but tall runners should look elsewhere. You can set the incline manually between 3 positions using leg notches but you can't adjust it in the middle of your run.
You can choose from 8 modes, with each mode able to be programmed to 8 different intensity levels for the ultimate personal training experience. That's a total of 64 pre-set training programs!
The accessory holders make it easy to store your water bottle and phone on the go. This treadmill comes with a 1 year warranty.
Pros:
Provides stable and extended workout periods.
Tracks real time data and performance.
Easy to move.

Cons:
The controls are average.
Not for tall runners.
Sunny Health & Fitness SF-T7917 Treadmill
Of course, having only manual incline isn't very convenient for anyone that wants to get a proper workout, but if you want automatic incline then you'll have to push your budget quite a bit. The Sunny Health & Fitness SF-T7917 costs a bit more to include this feature but is still inexpensive.
It has a very good and uniform shock absorption system throughout the underneath of the 52″ by 19″ deck, which is about the best you can get for under $800.
The treadmill's 2.5 HP motor allows for speeds from 0.6 up to 10 mph and the deck can incline through 15 levels. Both can be easily micro-adjusted via controls placed on the hand rails, while quick control buttons on the main console allow you to select 3 levels each. The remaining are controlled from the main console. There are pulse sensors on the hand rails as well. There are 15 preset programs to choose from but you can also save 3 of your own custom ones.
The digital monitor displays speed, time, distance, pulse, incline, and calories and the onboard BMI calculator uses these metrics to let you know how far along you are in your fitness goals.
This 265 Lb capacity treadmill has a space saver design and can be vertically folded up and wheeled into a storage area. The soft drop hydraulic system lets you gently unfold it when it's time to workout again. This treadmill is covered by a one year warranty on the motor and a ninety-day guarantee on parts and labor.
There are quite a few nice built-in features available: a USB charging port, dual bottle holders, and a device holder, speaker, and Bluetooth connectivity for your video and audio devices.
Pros:
Speed and incline transitions between levels are smooth.
Doesn't need much maintenance.
Easy to assemble.
Sturdy deck.

Cons:
No online connectivity.
It is much bigger than advertised and not compact when folded.
Horizon Fitness T101 Go Series Treadmill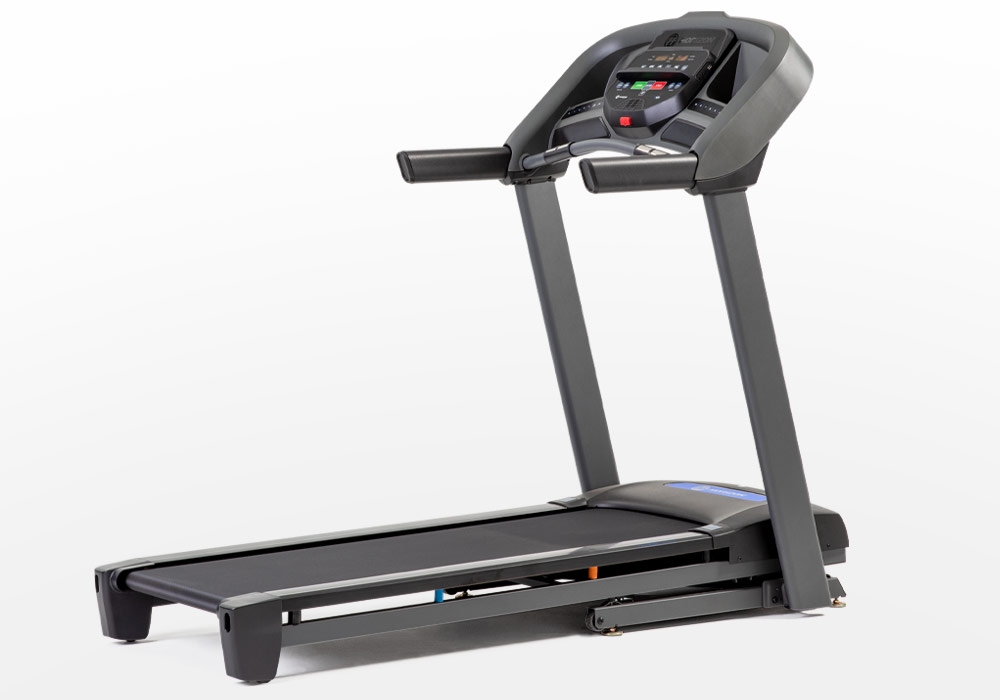 This Horizon Fitness T101 treadmill is the brand's best seller for beginners and is a value buy. The 2.5 continuous horsepower motor and the variable response cushioning via elastomer rubber grommets (larger ones for more flexibility in the front and smaller and firmer ones in the back) makes this perfect for walking and jogging but not great for running at full tilt, although it does run at a top speed of 10 mph. You can still get a high-intensity workout by adjusting the incline to its maximum 10%. There are 10 speed and 10 incline levels in all.
The Horizon T101 has 30 program options to accommodate your needs. You can choose from one of the step goal, distance-based, calorie goal, or interval workouts. You can also set your program manually. The speed adjusts to 10 mph and the treadmill has sonic surround speakers with MP3 compatibility. There is a USB port for rapid charging, a pulse grip to monitor your heart rate, and a console fan to keep you cool.
The T101 treadmill is very quiet at all speeds and the hydraulic assists make the folding and storage simple. The company provides one of the best warranties on the market. The machine's frame and motor are guaranteed for life, all parts for two years, and labor for one year. The reported problems are with the 20″ x 55″ belt which seems to be fragile if used regularly for running at the top speeds and too short for tall runners. However, the machine is sturdy enough for the reported 300 lb weight limit.
It features a one-button hydraulic folding system to make it easy for anyone to put it away after a workout. It also releases down slowly and just as easily.
Pros:
Very quiet.
Sturdy with a 300 lbs weight capacity.
Value for money.

Cons:
Not great for tall people or those running at full speed.
Doesn't need much assembly but it is difficult to do it without help.
Best Bang for Your Buck Cushioned Running Treadmills
So all of the above treadmills will cost less than $1000. If you have more to spend you should take a look at the following options. All feature better cushioning as well as other more advanced features.
Horizon Fitness 7.0 AT Treadmill
If the Horizon Fitness prices look good to you but you're a more serious runner and fitness enthusiast, then for a little bit more you can get a more advanced model from the brand. The Horizon Fitness 7.0 AT from the Studio series is also one of our picks for best treadmills for tall people, so we won't go into too much detail here except to mention what upgrades you can expect over the T101 model.
It features the same kind of 3-zone variable zone cushioning from the front to the back, but the deck is longer at 20″ x 60″, and can be inclined up to 15%. With a 3.0 CHP motor, the maximum speed this treadmill can run at is 12 mph.
You can use the iFit app and join online instructor-led classes and virtual races from Peloton Digital or Zwift via Bluetooth and you can even use a heart rate chest monitor and try some basic interval training by using the custom interval keys.
Pros:
Very good deck length for tall runners.
Great value.
Good incline.

Cons:
Very heavy, especially when lifting the end up for folding.
The hand rails are a bit low for tall people.
NordicTrack T Series 7.5 S Treadmill
The NordicTrack's T Series 7.5 S 20" x 60" track, 12 mph maximum speed, and iFit compatibility make it similar to the HF 7.0 AT, but the 12% maximum incline is a little lower. However, you also have the ability to connect to Google Maps and you can save up to 5 different user profiles, which makes it great for the whole family to use without the need for any external fitness trackers.
It has a 7-inch web-enabled touchscreen that lets you go online and compete with others during your workout or have an expert lead you through one.
The tread belt has Nordictrack Runner's Flex cushioning which you can adjust from cushioned to hard road feel with a simple turn of a knob. The belt benefits from self-cooling technology and the machine's operation is very quiet. The 3.0 continuous horsepower DurX Commercial Plus drive provides smooth and consistent power with little vibration.
You can easily view your speed, time, distance, calories burned, heart rate, and incline on the large display. The console on this model of the T series has a good cooling fan and a tablet holder that adjusts to a number of viewing angles. The T Series has a space saving design, so it folds up easily with an auto-lift assist for storage.
Pros:
Good for tall runners.
You can save different user profiles.
Easy to operate.

Cons:
The assembly can be time consuming and difficult.
The iFit membership is only free for the first year.
Nautilus T616 Treadmill
If you want a large number of workout programs at your fingertips, then the Nautilus T616 Treadmill may be what you're looking for. Its 26 programs include manual, interval, and anything in between and you can save 4 different user profiles.
Its Bluetooth connectivity gives you access to the Nautilus Trainer App, MyFitnessPal and more to keep track of your progress. If you want a more social experience, you can sync to the free RunSocial app where you can tackle several routes all over the world with other runners. The console features dual backlit LCD monitors
It features a 20" x 60" belt that is extra thick and a 6 hex cell design with a StrikeZone Cushioning System for extra comfort and minimal impact on the joints. This means that you get better shock absorption for your foot fall in the front and a sturdier pushoff at the back. You can enjoy an incline from 0 to 15% and speeds from 0 to 12 mph with the 3 CHP motor. Use the pulse grips or the included chest strap monitor to keep track of your heart rate.
This is another space saver machine that folds with a SoftDrop design for storage. Some of the other features are the 3-speed fan, media tray, two small speakers, and a 300 lb weight capacity.
Pros:
Very sturdy build.
Two people can assemble it in less than an hour.
Plenty of program options.

Cons:
The display is not a touchscreen.
Speed and incline response times are a bit slow.
Best Cushioned Treadmill for Running
Now we get to the treadmills around the $2000 range. These not only have excellent variable shock absorption systems, but they also have other advanced features that make treadmill running a great experience.
LifeSpan TR3000i Folding Treadmill
The LifeSpan TR3000i is a sturdy machine that is equipped with EZfold technology, which makes it easy to fold and move. The running surface is 20" x 56" and supports 350 lbs. The deck has 8 variable density impact absorbing responsive compression shocks, which comfortably support your knees and ankles, although the brand's commercial models have better cushioning. You also have a cooling fan and a USB data port to save your stats or charge your phone.
The 2.75 horsepower motor is continuous-duty, ensuring stability at any speed or incline. There are twelve different speeds from which to choose and the TR3000i inclines for 15 levels to around 30%, which is like walking up a steep hill. No need to use a step machine with this treadmill!
There is a 7″ backlit touchscreen display that shows your elapsed time, calories burned, distance, total steps, heart rate, speed, and incline level. For those who prefer feedback on the controls there console buttons as well. To achieve variety, you can choose from any of the 38 workouts, including customizable treadmill programs. These also include three specific intensity levels for each preset and you can track your progress on apps like Google Fit or Apple Health via Bluetooth.
LifeSpan offers a lifetime frame and motor warranty, with five years on parts and one year on labor. This is an above-average machine for walking or running and can handle up to 350 Lbs in weight capacity. However, its running surface is slightly shorter than most so if you are tall or have a long stride, you might want to find an alternative with a longer tread belt.
Pros:
Offers the best incline.
The motor is commercial grade.
Pretty compact when folded.
Very quiet.

Cons:
Not a very long deck for this price. Tall users would have to fork out more for a higher model.
NordicTrack 1750 Commercial Series
You can see by the name that the NordicTrack 1750 Commercial Series treadmill is not really a treadmill made for home use but if you're looking for the best motor, best features, a treadmill with best shock absorption, and would like some decline for downhill running, then you'll have to look at a few commercial ones and this one is one of the most affordable ones available.
First, let's look at the deck and belt. The belt is wider and thicker than home models, measuring 60″ by 22″, so you can count on it to be long-lasting and keep the noise of your pounding feet to a minimum. If you need a treadmill for more than just fitness but want to compete in road races, then you need to practise on a deck that can simulate real road conditions as closely as possible. The NordicTrack FlexSelect cushioning can be turned on or off depending on whether you need to train or you need a more comfortable experience.
The 3.75 CHP motor is powerful but whisper quiet and allows you to do long-distance training, sprints, and interval training with smooth transitions. You can go up to 12 mph. Not only can you climb steep hills, but you can also run downhill, as the deck gradient can be changed between 15% incline and 3% decline. This also gives you more options for interval and race training and you can use iFit's Google Maps feature as well as iFit Coach for fitness data tracking via the 10″ touchscreen.
You can choose from a mind-boggling 50 different workout programs that span heart rate control, calorie burn, interval, and speed training options. Save up to 5 different user profiles. There are pulse grip sensors on the handlebars and it is compatible with a heart rate monitor but that's something you'll have to buy separately.
There's a tablet holder on the console and it has Bluetooth capabilities for your phone or headphones with good inbuilt speakers so you can listen to instructor-led classes, listen to music, or watch TV on your own device. The dual built-in fans are very effective too. However, when you do use a tablet, it will block your view of the treadmill's display screen.
This 300 Lb capacity treadmill is heavy and large but it can be folded up for storage.
You get a 10 year warranty on the frame but only 2 years on the parts, which is a bit short for a commercial machine. However, if you're only using it for the home, you can expect everything to last a long time.
Pros:
The video experience is excellent and seamless while following live or streaming classes.
Very quiet machine.
Transitions on incline and speed are very smooth and steady.

Cons:
Several customers say that the pulse sensors don't work. Considering that this is a commercial machine and its sticker price, a chest strap monitor should have been included.
You'll need help with assembly.
Which Treadmills Have the Best Cushioning System?
Cushioning is most important to runners, but it also provides benefits for anyone who wants to minimize the risk of injury. On a cushioned treadmill, your risk for pain and injury is reduced by about 15-40%.
The new home treadmills that cost between $1000 to $2000 have the best cushioning systems that are more comfortable and make a big difference to your endurance. Many people find that they burn more calories too. Treadmills that offer differential cushioning are the key to an enjoyable running experience. You get firm support on takeoff and softer cushioning on landing. Some treadmills are equipped with adjustable cushioning so that runners can customize their workout.
So keeping the above factors in mind, which treadmill has the best cushioning? The Horizon Fitness ones are great if you don't want to spend too much. The T101 model for under $1000 is fine as long as no users are very tall or need it to only run at a fast pace. The 7.0 AT model is better for tall users and proper running. The brand uses variable cushioning down the length of the deck, so you have good support near the front where your foot lands on impact, but have a nice boost to take off at the back.
If you're alternating between fitness workouts and road race training, then NordicTrack has some of the best treadmills for joints. If money is no object then the most cushioned treadmill here is the 1750 Commercial Series model and it has the added benefit of a decline option. If you're not very tall but you want a heart rate monitor included, then the LifeSpan TR3000i has almost as good cushioning. If you don't need a decline option, the NordicTrack T Series 7.5 S is perfectly good for a value option and the Nautilus T616 is very similar and just as good.